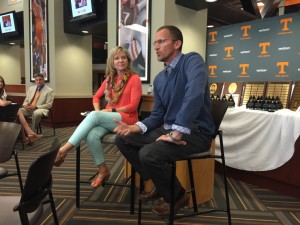 The 2015-16 year was capped off Wednesday at the Partners in Sports Annual Spring Reception. Nearly 80 students, alumni, and friends of the program attended the event.
Olympians Missy Kane and Tim Mack were the featured speakers and each discussed their journey to athletic success and how to apply those principles to success in the sport industry. Common themes that appeared were perseverance, attitude, and surrounding yourself with good people. The highlight of Tim's career was capturing the gold medal in the pole vault in the 2004 Athens Olympics. Tim had failed to make the Olympic Team in 1996 and 2000 but he kept striving for excellence and his determination paid dividends with Olympic glory. Missy stressed the importance of attitude and finding your niche in the professional world then going after that niche.
Sixteen students were recognized at the event for scholastic achievement, professional accomplishment, and service to the organization. Recipients received a combined $17,000 in scholarships and awards bringing the total to date of more than $130,000 since the organization's inception in 1998.
Recipients for the Buck Jones Award for Professional Promise were Jackson Martin and Sam Gilliam. 2013 winner Sara Mitchell (B.S. 2013, M.S. 2015) was on hand to present the award. Dr. Joy T. DeSensi presented the award named in her honor to Chrissy Steffen for always exhibiting a high-level of professionalism. Service Award recipients were Ashlie Caldwell, Olanda James, Andrew Porth, and Danielle Sapore.
Scholarship recipients were Raven Chavanne, Sam Davy, Ethan Engel, Lucas Forstrom, Earnest Harlan, Jessica Leifheit, Bridget Landis, Derrick Phillips, and Michelle Woods.