One of the primary features of the Sport Management program at Tennessee is the emphasis on the experiential education approach to academic preparation. Students graduating from this program will gain practical experience to accompany their academic degree. The program provides the opportunity for students to have a quality academic experience and to gain professional experience as they prepare for careers in the sports industry.
The Sport Management program is committed to the development of cutting-edge academic undergraduate and master's degree programs related to the understanding of management in a sport related setting. Students at the University of Tennessee are offered the opportunity to develop the skills and knowledge necessary for a career in Sport Management through these programs. The mission of the Sport Management Program is to prepare dynamic leaders for tomorrow's sport industry through scholarship, leadership, diversity, and quality academic and practical experience.
The curriculum for Sport Management was developed in 1983 and formally recognized in the Undergraduate Catalog in 1984. Sport Management is a field of study and application based upon the integration of the special nature of sport and management theory and principles applied to sport. Sport Management includes any combination of skills related to planning, organizing, leading, and evaluating within the context of an organization or department whose primary product or service is related to sport. The program is housed in the Department of Kinesiology, Recreation, & Sport Studies within the College of Education, Health, & Human Sciences at the University of Tennessee.
The Undergraduate Catalog and Graduate Catalog provide more information about the program.
---
The undergraduate Sport Management program is also accredited by the Council on Accreditation of Parks, Recreation, Tourism, and Related Professions (COAPRT). The council recogni
zes academic programs in colleges and universities that prepare new professionals to enter the parks, recreation, tourism, and related professions. COAPRT Accreditation is a status granted to an academic program that meets or exceeds stated criteria of educational quality.
---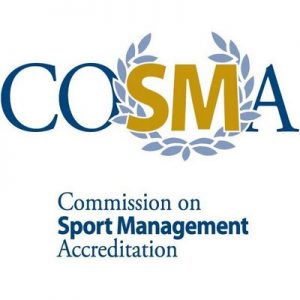 The Commission on Sport Management Accreditation is a specialized accrediting body whose purpose is to promote and recognize excellence in sport management education worldwide in colleges and universities at the baccalaureate and master's levels through specialized accreditation. Programs, students, employers, and the general public all benefit from the external verification of quality provided through COSMA's accreditation process. They also benefit from the process of continuous quality improvement that is encouraged by COSMA's developmental approach to promoting excellence in sport management education. The program at Tennessee is a member of COSMA and is pursuing accreditation.